Superior Websites for Everyone



Contact us today!
We will contact you within
1-business day.
Great Websites for a Great Price
We make it simple and affordable to have a great website.

Monthly Fee: $30

· Free Domain
· Free Hosting
· Unlimited Bandwidth
· Unlimited Disk Space
· Five Updates Per Month
· Daily Website Backups
· Personal Web Developer
· 50 Email Addresses



What's Included
· Custom Website Design
· Custom Graphic Design
· Search Engine Optimization
· Search Engine Submission
· Site Map Creation
· Descriptions, Keywords, Titles
· Email and Phone Support
· Google Analytics

One-Time Setup Fee: $200

What's Included

Money, Time, and Quality are all equally important elements in business and in life. We understand this principle and we ensure
that the design and creation of your website reflects those very elements. You will recieve a high quality website for a price that others don't even try to match. This allows you to focus your time on your business and the things most important in your life.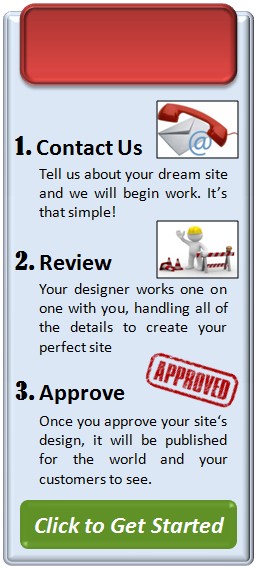 3 - Simple Steps to Get Started Today!
Superior Websites for Everyone