Superior Websites for Everyone



Everyone should have a great website. Our simple 3-Step process gets you connected quickly, easily, & affordably.
Connecting You to the World
Our Technology

You receive free web hosting and a free domain. You also receive an incredibly secure and stable website.
About Us
Decades of experience & knowledge, great support & service, and all for an exceptional value.

Click Here to Get Started
Click Here to Learn More
Click Here to Learn More



3 - Simple Steps to Get Started Today!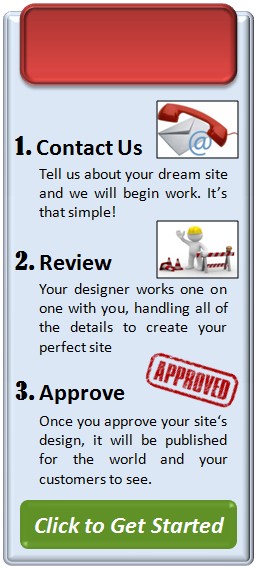 The Competition
I have seen everything from FREE website builders to websites that cost over $2000 advertised. Why Should I choose AtomicBridge? Compare us to the competition and the answer will be clear.

"Free" / Cheap Builders. As you know, nothing is free. These so-called "free" or cheap site builders sneak their charges in and advertise on your site after YOU have worked hard to build it. They charge you for hosting, domain name, and anything else they can. These "free" site builders will leave you with a cheap website, which usually doesn't do what you want it to do. Avoid the frustrating & time consuming "FREE" way that is anything but "FREE." It will end up costing you Time and Money while sacrificing the Quality of the website that represents you and your company.

1-Time Design Only Builders. They design your website and that is it. It is up to you to figure out how to host your site, buy a domain, and everything else that is required to have a website. They are also expensive!

AtomicBridge Custom Website Design. We will be your virtual IT Department. From site creation, to publishing, to maintenance. We will take care of every aspect of your website. The others will not. We make it simple & affordable to have a website.

AtomicBridge
Complete & Affordable
Design Only Builders
Overpriced
"Free" / Cheap Builders
Very Low Quality
Cost
$30 per month / $200 setup Fee
$250 - $2000 Per Design
Free - $200
Custom Website Design
Yes
YES
NO
Custom Domain Name
Yes
NO
EXTRA CHARGE
Website Hosting
Yes
NO
EXTRA CHARGE
Changes to your Website
YES - 5 Per Month
EXTRA CHARGE - REDESIGN
NO
Unlimited Bandwidth
YES
NO
EXTRA CHARGE
Unlimited Diskspace
YES
NO
EXTRA CHARGE
Personal Web Developer
YES
YES
NO
Custom Graphic Design
YES
EXTRA CHARGE
EXTRA CHARGE
Search Engine Optimization
YES
EXTRA CHARGE
NO
Search Engine Submission
YES
EXTRA CHARGE
NO
Site Map Creation
YES
YES
NO
Descriptions, Keywords, Titles
YES
YES
NO
Email and Phone Support
YES
YES
NO
Daily Website Back-ups
YES
NO
NO
Google Analytics
YES
NO
NO
50 Company Email Addresses
YES
NO
NO

Why Choose AtomicBridge? - Compare us to the Competition.
3 - Simple Steps to Get Started Today!
Superior Websites for Everyone